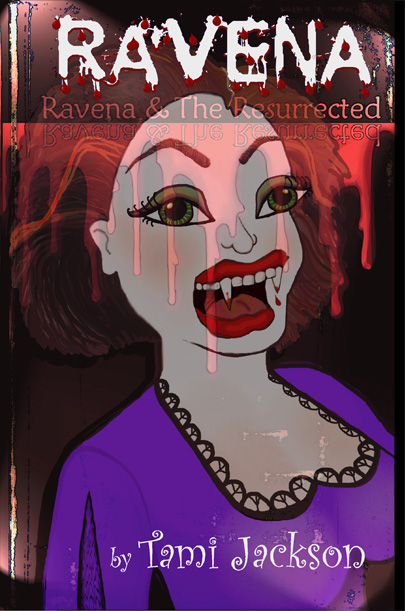 There are books about breaking of bread & Sabbath-breaking. Then there's Ravena & The Resurrected - where all Hell breaks loose. (Vampires are real!)

AVAILABLE For $9.99 ON:
* Smashwords (all eBook formats, including Kindle)
* Diesel eBooks (epub)
* Barnes & Nobles (Nook)
NOTE FROM THE AUTHOR: As a blogger, I'm also an author. This page is to present my debut novel, Ravena &The Resurrected via what's posted on other blogs.

See publisher's web page
Visit Ravena's blog (lots of comics)
Learn about Ravena
Buy
Ravena & The Resurrected
OTHER BLOGS (NOT MINE) POSTINGS ABOUT THE AUTHOR AND/OR BOOK:
AUTHOR TAMI JACKSON INTERVIEWS
* Paranormal Wire w/Natasha Larry (author oriented interview)
* Indigo Blooms w/Michelle Corbett (writing/publishing oriented questions)
* A Trillion Books w/Blogger Tasha (book & whose your reader? questions)
* Life Of A Bookaholic w/Kyanara Knight (author focused interview)
* My Book Addiction w/Annabel (writing-centered questions)
* Beyond The Bookshelf w/Stephanie Chowboysky (author interview)
* Fiction Flaire w/Varsha Dinesh (character-centered questions)
"LOVE" IN
RAVENA & THE RESURRECTED
* Fade Into Fantasy - Ravena never gives up seeking her lover
* The Bookish Snob - Love encompasses more than romance
VAMPIRES IN R&R
*
Wicked Little Pixie
- Introducing Dresmona (largest vampire)
*1000+ Books To Read - How vampires in R&R compare to others - socially
* NYX BOOK REVIEWS - How R&R vamps compare PHYSICALLY
*Examiner.com presents ristian vampires and a book SUMMARY
* ImNoAngel - the topic is HEROES and vampires often are!
WEREWOLVES IN R&R
* Dark Novels - Introducing Conian
* FangTastic Books - First time Ravena hears a werwolf's howl

BOOK REVIEWS WRITTEN BY BLOGGER
S
(if you're a blogger, and you've written a review, ask to be added to this list!)